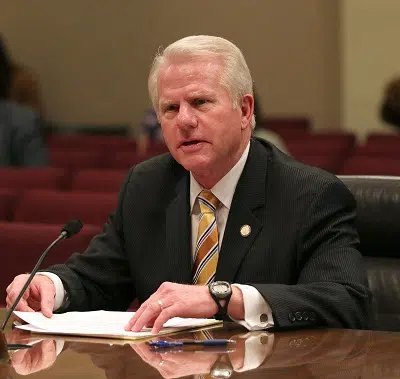 Lawmakers began a new session Wednesday with an expected focus on the state's tax revenue shortfall and mounting pressure to reduce property taxes, a major complaint of farmers, ranchers and homeowners.
The first order of business was to elect committee chairs for the 2019 session, and Senator Matt Williams of District 36 was named chair of the banking, commerce and insurance committee.
The Senator joined Kbear News Director Tyson Havranek to discuss this new role and preview the upcoming legislative session.
Senator Williams Legislative Update Column
Greetings, District 36. On Wednesday January 9, 2019, we began my second term with the start of the 106th Legislature. I am honored that my colleagues selected me as chairman of the Banking, Commerce, and Insurance Committee. I'm looking forward to leading the committee that I have served on the past four years. I will also be serving on the Health & Human Services Committee again this session.
Overall, the leadership and committee chair elections showed that this session of the Legislature has more moderation and potentially more opportunity for compromise. This will be a necessity as some major issues will come before the body over the next two years. These issues include addressing the property tax inequity in the state, overcrowding in the correctional system, and possibly reforming school funding.
Once again, the property tax debate will be challenging. Over the past ten years we have seen a significant shift towards property tax to fund local government. We must find the right balance between property tax, income tax, and sales tax, so that the tax burden is equitable to individuals, businesses, and agriculture. I'm committed to working to find solutions that reduce our reliance on property tax yet preserve our needed government services such as high quality education, serviceable roads, and public safety.
Having been selected as a committee chair for this session means we have moved offices from the second floor down to the first floor of the Capitol. We are now in room 1401. Another part of leading a committee involves an increase in staff. Our office has added Bill Marienau as the committee legal counsel, he has served in this capacity for the last 34 years. Natalie Schunk will be moving up to be the committee clerk, Dexter Schrodt remains as my legislative aide, and we have added Phoebe Haney as our new administrative aide.
As always, feel free to contact me anytime at (402) 471-2642 or mwilliams@leg.ne.gov. Thanks again for your continued support.