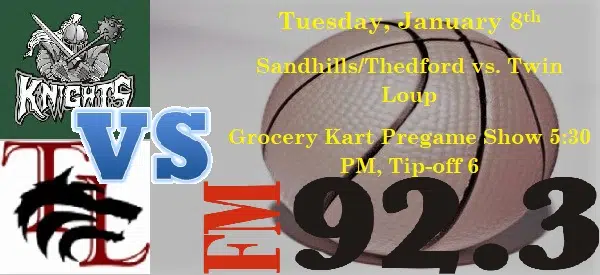 Sandhills/Thedford travels to Twin Loup tonight in a game that was postponed from early December.
On the girls side of things the Lady Knights are looking to improve to 6-4 on the season but face a 3-6 Twin Loup team with a new head coach, and a new offensive scheme to contend with defensively.
On the boys side of things the Twin Loup Wolves may only be 1-7 on the year but head coach Chris Beran has seen continued improvement with his team.
The Knights are 4-5 on the season, and are fresh off a victory over Sutherland on Friday, and Head Coach Adam Marten says the Knights are playing their best basketball of the season.
Tip-off is scheduled for 6pm, with Tyson Havranek on the call. We will begin our coverage with the Grocery Kart Pregame Show at 5:30.