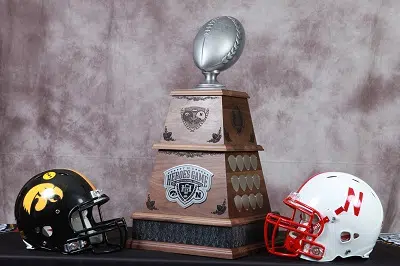 Nebraska closes the season on Friday with a game at Iowa.
Nebraska enters the game at 4-7 overall and 3-5 in Big Ten play, following a hard-fought 9-6 victory over Michigan State on Saturday in Lincoln. The win was Nebraska's fourth in its past five games, marking the Huskers' best five-game stretch since opening the 2016 season with seven straight victories. The win over Michigan State was keyed by the Blackshirt defense, which allowed just two Spartan field goals, a 15-of-41 passing effort and 289 total yards. Barret Pickering hit three fourth-quarter field goals and the win was Nebraska's first without scoring a touchdown since 1937.
Iowa comes into the contest with a 7-4 overall record in 2018, and a 4-4 mark in Big Ten Conference play. The Hawkeyes are coming off an impressive 63-0 victory at Illinois on Saturday, ending a three-game losing streak, in which the Hawkeyes' three losses were by a total of 12 points. Iowa owns one of the league's best defenses, ranking second in the Big Ten allowing 280.9 yards per game, and second in the conference in scoring defense at 16.5 points per game. The Hawkeye defense has allowed just 11.0 points per game at Kinnick Stadium this season.
Kickoff will be at 11:00am, the game will be televised on fox.