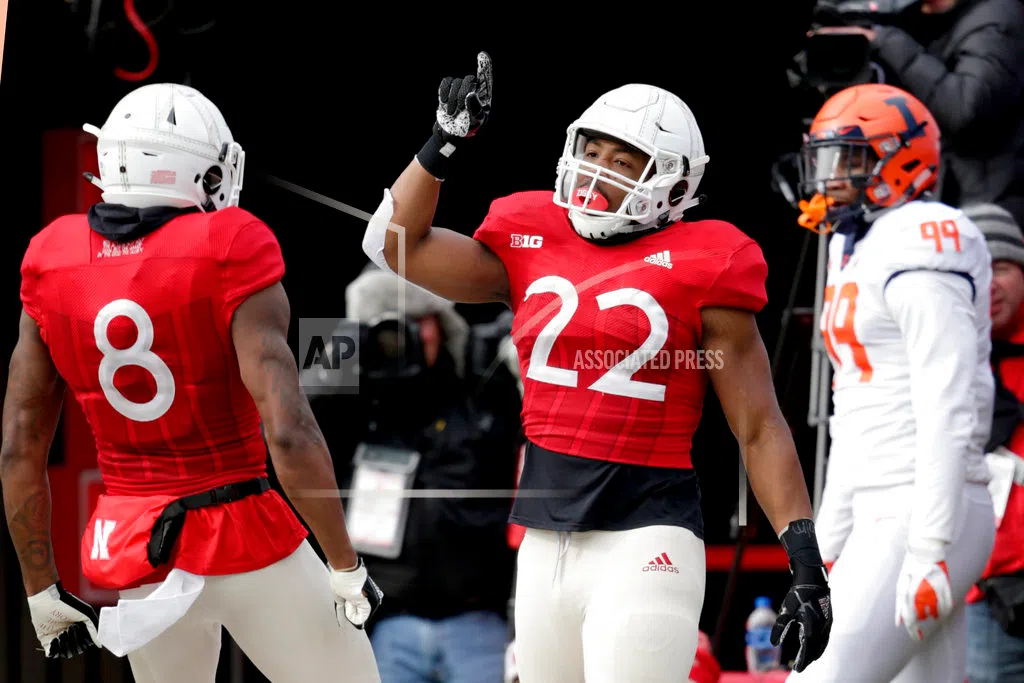 Nebraska's high-powered offense made Illinois pay for its many mistakes Saturday.
The Cornhuskers converted four of the Illini's five turnovers into 24 points while pulling away for a 54-35 win, their third in four games after an 0-6 start.
"We got some good breaks today. We were probably due for some good breaks," Nebraska first-year coach Scott Frost said. "They made a couple mistakes and got us some good situations. You can't take advantage of those if you're not doing the right thing."
The Huskers (3-7, 2-5 Big Ten) did plenty right. Wearing alternate uniforms to mark the 100th anniversary of the end of World War I, the Huskers rolled up 606 total yards on a raw afternoon when the wind chill dipped to 13 degrees. Illinois amassed 509 yards in the meeting of the Big Ten's worst defenses.
"There early on in the game, watching our offense executing, man, it's fun calling plays; it was a thing of beauty," Frost said. "Those guys were executing everything we were calling."
Adrian Martinez threw for 290 yards and accounted for four touchdowns and Devine Ozigbo ran for 162 yards and three scores.
On the basketball court….
Nebraska overwhelmed Southeastern Louisiana Sunday, taking control of the game with a 22-0 first-half run and never letting the Lions make any kind of a comeback.
That pleased coach Tim Miles, as did a similar effort Tuesday when the Huskers downed Mississippi Valley State by 69.
"What I like about the team is they were able to play with the mentality and show the versatility to defend the right way," Miles said. "I think we've been okay defensively. We were really good until we got to 78 points on offense. Then we just stopped. But I think we've shown that mindset and that consistency. Certainly you want to see that."
Nebraska (2-0) held Southeastern Louisiana (1-2) scoreless for 8:41 in the first half run. The Lions missed 10-straight shots and turned the ball over nine times during that stretch, which began when Nebraska switched its defenses — playing zone as well as man-to-man and putting on a full-court press.
"I think it really helped us,' Miles said of the defensive switching. " We had 16-straight stops in the first half. The press and the zone were part of that. … I thought it really helped tonight, to keep Southeast Louisiana off balance. After the first 3½, 4 minutes, we stopped them in man or zone or press. It was all good for us."
The Huskers went up 10 on Glynn Watson, Jr.'s layup with 12:20 left in the half and led 26-7 before the Lions scored to end the drought. The Nebraska lead went to 20 on Amir Harris' layup that made the score 34-14. The Huskers took a 31-point lead on Brady Heiman's dunk at the 2:02 mark and led by 36 at the half.
Nebraska led by as many as 53 in the second half.